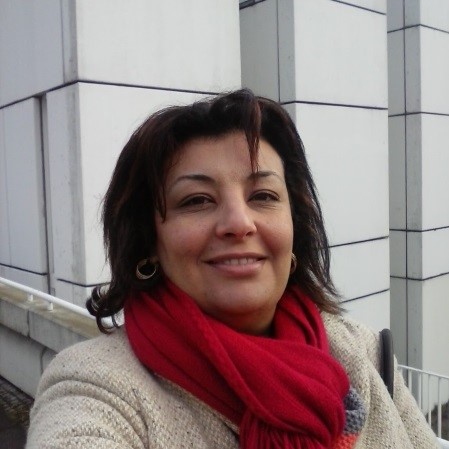 Dr Nahla Mattar, born 1971, in Giza, Egypt, is a composer, teacher, and musicologist. She was the Director of Umm Kulthum Museum, Ministry of Culture in Egypt (2011-2014), and just finished her sabbatical position as an Associate Professor in University of Jordan (2016-2017). In addition, she is an associate professor at the Helwan University, Cairo. Mattar got her doctorate of musical arts in composition by the Arizona State University in spring 2005. She worked as fellow researcher at the Arts, Media and Engineering Program from 2003 until 2005. Mattar's composition teachers were Glenn Hackbarth, Judy Rockmaker, Rodney Rogers, and David Birchfield. She took master classes with various composers as: Michael Daugherty, David Burge (USA), and Isabel Mundry (Zürcher Hochschule der Künste).
Mattar's goal is to write expressive music that blends music with visual and theatrical rituals, exploring cultural pluralism and interconnectivity topics. She has a great interest in electro-acoustic/digital interactive media. Her graduation work Scars was premiered in Phoenix, Az. in April 2005, a major collaboration with videographer Joan Karlen (University of Wisconsin) and visual artist Arina Melkozernova under the musical direction of Ilana Lydia. Scars was also performed in Berlin by Ensemble United Berlin, under the musical direction of Oliver Schneller. Mattar enjoyed a residency in Winterthur, Zurich, Switzerland, in 2008. She won the second prize in the International Women Composers Competition, Unna Library, Germany for her violoncello, bass clarinet and piano piece: Three. She was commissioned by Xenia Contemporary Ensemble to write celebrating the River Nile, and the premiere of  "A River Inside us Running" for string quartet was in the Egyptian Museum in Turin, Nov. 2012.  In Nov. 2013, she enjoyed a five week residency in Berlin through DAAD arts program.
Mattar taught computer music courses to both Cairo conservatory graduate students, and undergraduate students of the Faculty of Music Education (2006 -2008). She has organized a concert series under the name Intermedia Egypt, where exclusively contemporary music were presented.
Nahla Mattar is a member of the Egyptian Music Committee, Supreme Council of Culture (2008 -2011, 2013- present), and represented it by a paper at the International Music Council Conference in Beijing in October 2007. She has been commissioned to compile and edit the book of the First Contemporary Music Biennale, Alexandrina Bibliotheca, 2009. In addition, she was the coordinator of the 1st International Conference on Music Education in Egypt in 2010.
She has been working extensively with the topic of Music Memory, as the music coordinator, commissioned by both the Egyptian Ministry of Culture and Prohelvetia. She conducted an international workshop with Swiss experts for composers and local musicians of Semsemya ensemble, as well participated in the installation "the City the Ghost" in Aug. 2011 about the sounds of Cairo.
In 2010, Verlag Neue Musik has published her Egyptian Piano Miniatures, mainly for interior piano, previewed by German composer Klaus Hinrich Stahmer and American Pianist Madeline Williamson. Her doctoral dissertation was published by Lambert academic publishing in 2012.
On the other side, she has been trying to open a dialogue from a compositional point of view with Music Education through critical analysis of Arab Music vocabulary. She has been involved in several projects, locally and internationally since 2012 to promote the music imagination of the school student, especially in semi- marginalized communities. Among these projects: Drawing Sound (2012 -2013), Ears Wide Open (Denmark & Egypt, 2014) http://earswideopen.musiketnologi.dk/ ,and finally Eurythmica (Arab Maqam Appreciation, Jordan, 2016). She has participated in the 1st Arab Music Educators Forum in 2016 via a paper on suggesting new pedagogy to teach Arab elementary students about Arab Maqam. Earlier in 2015, she presented a paper in World Music Teaching Symposium, University of Northern Illinois, about one of the controversial Arab Music terminology: Tarab, pointing the role of the composer rather the performer.
Among other awards: Dissertation Research Award: College of Fine Arts, ASU, fall 2003. Composition Recognition Award: The Supreme Council of Culture, Egypt, fall 2000.
Personal  Blog: http://mattarcomposer.blogspot.com.eg/